Last spring Ernie, now playing a long time resident of Dolltown's surrounding valley, welcomed new arrivals Priscilla and Fancy Nancy.
 Priscilla is not happy. Well, ever.
Fancy Nancy is.  Always.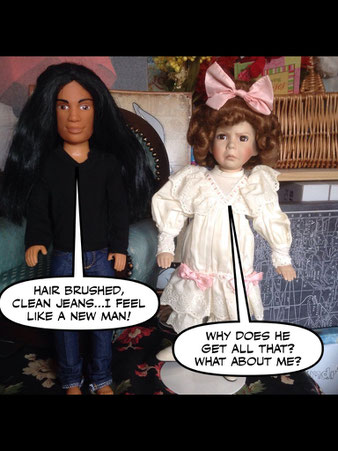 Ernie was really happy with the influx of new dolls. It also meant the arrival of shipments of new doll clothes.
Some clothes arrived even before their dolls. 
Ernie just happened to fit clothes meant for the bjd boys, still traveling from Korea at the time.
He traded in his, umm, knit outfit, for well fitting jeans and a hoodie.
There!!
Terri Lee is going to like these jeans, Ernie! 
Now, Priscilla, what about you? Let me answer that....
Would you come with me to the Talk About It Room?
No? You're fine? Okay then...
How about a smile?
No? Perhaps another day....
Welcome!
Hello!
henkla!
Bonjour!
Dolltown is multi lingual.