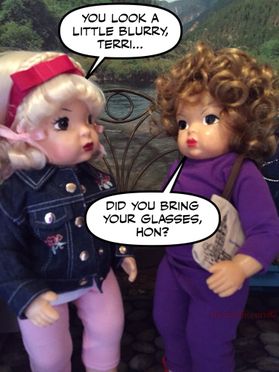 These photos are from last March, at Terri's birthday celebration at The River. There was a picnic with lots of food!
Switching the heads on two of the Ellowynes recently reminded me that my two vintage Terri Lees are still in pieces in a covered basket....
We miss them! They are like the grandmothers of Dolltown. We need our elders!
Sure, the Terri Lees may have baby faces to those who are not used to them. But they are definitely FULL of experience!
And the children flock to them! Nice broad laps...
Now that I have melted the heads off two vinyls (and put them on each other), maybe I can turn my attention to what's the matter with these two.
If I remember right, Terri's limbs fell off, two by two. No wonder! 60 year old strings and rubber!
And then Queeny's head broke when we tried to pry her old wig off The blond strands were falling off by the brushfull!
And Queeny was so excited about the new curly wig, too.
Not as platinum as what she was used to but still Marilyn Monroe-ish, Queeny thought. And she loved her BFF's new coppery curly do....
But a new wig won't fix a broken head...
I need to call the doll hospital I think.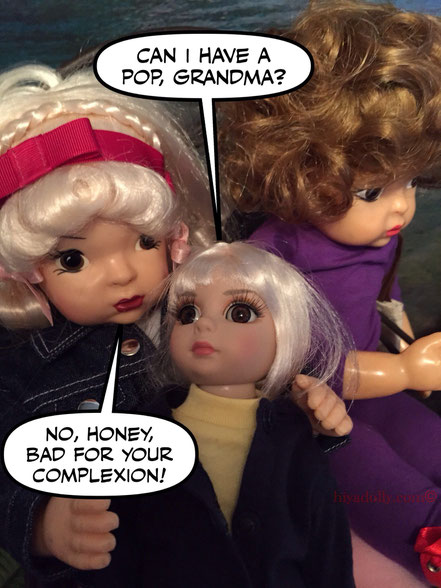 Gabby took to Queeny right away. It was like looking in a mirror.
She's so pretty, Gabby thought. Just like me!
I have found Gabby curled up in the basket with the two old dolls. I'm sure I can hear them singing to her...
---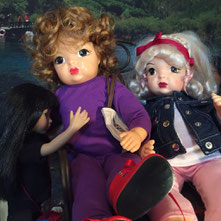 Ana gives Terri a birthday hug.
Actually, Terri's limbs were already off by this photo shoot. The fabulous yoga outfits from Wonderful Worlds kept her together while the celebration took place.
It was actually the reason I could get these adorably chubby dolls, Terri Lee and Queeny, into the same chair together! Terri's limbs were so...flexible!!
But shhh! Don't tell, okay?
You wouldn't know if I hadn't told you!