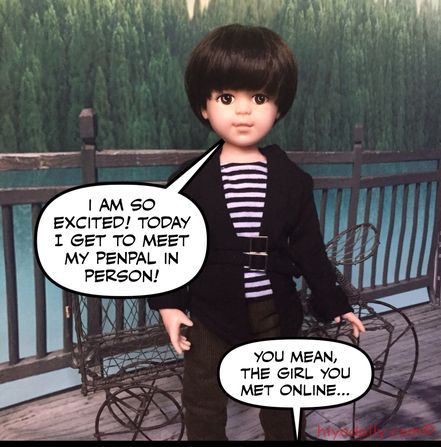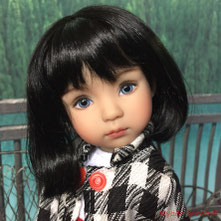 Conner is feeling a little shy, meeting Will for the first time...
In a way they already know each other because they have been emailing and texting for months.
They have sent each other photos,  shared their hobbies, and talked about how much they would like to have a pet dog...
But still, they both hope they will like each other in person!
---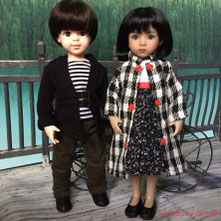 Look at these two!
You'd think their outfits were planned together!
But their wardrobes are both filled with black, white, and bold colors, so it is just a coincidence. They are admiring each other's good taste. Rapport!
And they each have lots of hiking and fishing clothes of course, since they are both outdoorsy!
(Omgosh, that is such wishful thinking on my part...no doll here has "lots" of clothes, and certainly not lots of FISHING clothes! But Conner does have camouflage T's. We are ALL envious!)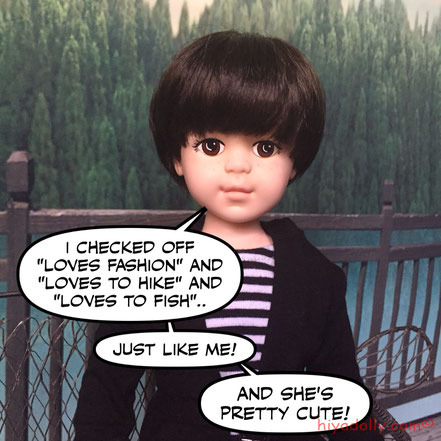 So, for the meet up, Conner and Will have each brought a friend for support. Eve has come with Conner, and her good friend Chris is walking Will to the bridge...
Photo story slider...click to change photos.
Well, it seems to have gone really well...
Will is telling Conner he'll take her out on a hike up the hills around Dolltown. And Conner is saying she hopes that Will can take her out trout fishing...with friends, of course!
Will tells her they can fish right off the bridge here! Just add a line, bobber, and sinker to a stick! Conner is excited! (I think I heard her say, "I'm psyched!")
And Will has dabbled with Tenkara, a traditional form of Japanese fly fishing. Simple! It boils the sport of fly fishing down to its essence. 
They are off to change and find some string...