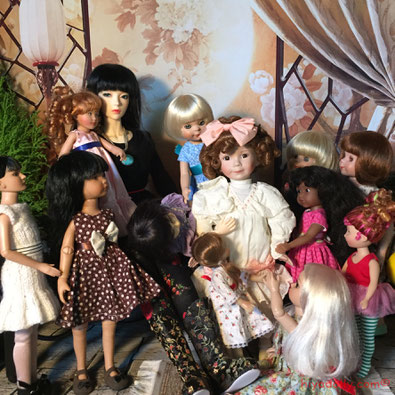 It's a smile!
Priscilla has been grumping at all of us for months!
About everything!
We are used to having to interpret doll feelings.
I mean, look at Asa!
But Priscilla really took the cake.
She was grumpy even when she HAD cake!
She looks positively angelic!
Just so you can see...
This is what we are used to!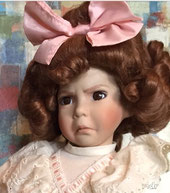 Quick! We MUST get her to the Talking Room.  
What happened, Priscilla?
Was it Asa? Did you feel a change inside? Will it last?  
Can't wait to talk to her!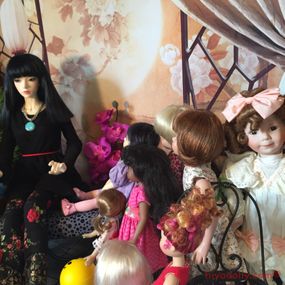 As you saw in our last story, all the girls settled under Asa's calm...
They went from rambunctious to quiet when Asa lifted her hands.
But Priscilla? Look at her! What kind of magic is this?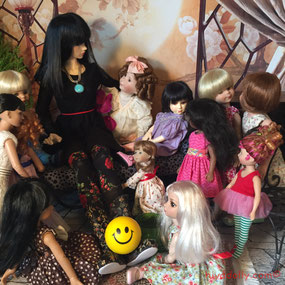 The girls can't believe it! A smile?
Priscilla gazes happily at Asa. What?
The girls look at each other in disbelief. They only know a grumpy looking Priscilla, even when they think she is secretly happy!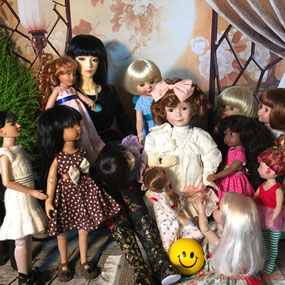 Priscilla is the centre of attention!
The children crowd around her. They want to see this little miracle.
All the talk of Asa's magical powers will definitely NOT diminish after her Open House.