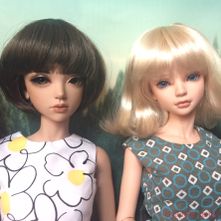 It's the Iplehouse JID girls!
Their sculpt names: Violet, Cordelia, and Tania.
Here in Dolltown we call them...a variety of names depending on their story characters.
They are dressed in their Pachom day dresses...
These girls have been at Asa's Open House for a photo, then came to the Bridge to hang out for a while with the other Dolltowners...