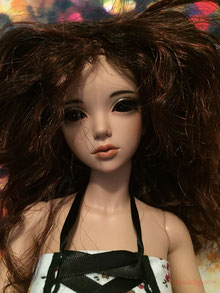 Terra, definitely an Earth spirit, is at the Path. She is spending time with the plants and acknowledging the four directions.
The boys , who were out for a hike, come across her in the forest. But hide until she's gone...
Wow! Isn't she something! Owen says!
---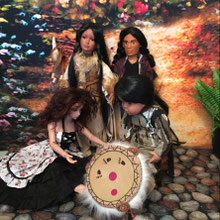 Ernie brought his son, Abe, to meet Terra. Abe brought his drum and showed Terra how to use it.
Different, she said, from the drums I know... Good sound to touch the earth.
---
Terra has chosen to live in the Forest near Dolltown, and not at Dolltown Abbey where the other Iples live. She visits them, spends time with them, goes to events with them. But Terra loves her cabin in the Forest, close to the creek, the plants, the creatures...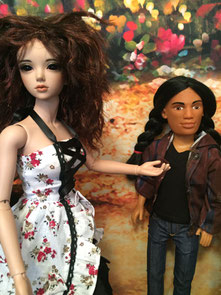 Terra meets Ernie, a longtime resident of the valley, on the Path.
Ernie introduces Terra to his sister, Mokidin. Mokidin is interested in Terra's earth rituals, and they spend time sharing.
Honor the four directions, the sky, the earth...
---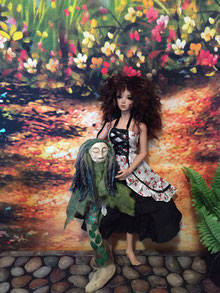 And then...Ernie came across a River Spirit Crone, resting along the Path.  Ernie told her there was a kindred spirit in the valley now, from another land...
As Terra passed near River Crone, she heard a burbling sound. Terra understood River Crone's burbles and before long she was being led to the river itself...