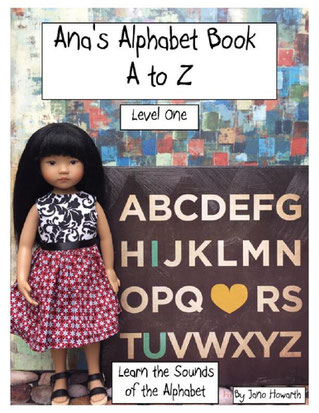 It's live! ...on Amazon
The process is full of steps but , one by one, I took the steps and uploaded the children's learning book I was working on.
Now, I think it still needs a few tweaks but completing a process was important so I could see what one has to do....
I used a free Amazon program called Kindle Kid's Book Creator, that promises an easy process to publishing. And I used the Comic Life program to create the individual pages. The photo shoot was fun, with some additions and deletions to complete all the pages I wanted. 
Now begins an Amazon book experience I have never been through. And I'll add it to the circle of online interactions and upkeep that keep my thoughts focused on positive and creative endeavors.
And still...allow in the fun and joy that comes from being surrounded by hilarious dolls. The conversations that go on in my head as I think how to set up the next story are lots of fun. Like hearing Lula figure out a way to be in the next book, even though she doesn't belong in it. Creative impatience.
I suppose every thing I hear the dolls say is a part of who I am. So does creative impatience apply to me?
G would say so as he reads the little published book, and sees something that needs changing.
But it does get things done, out, ready for reviewing by others, who will offer more opinions.
So, dear readers, at $3 or $4 a pop, you have a chance to read this little photo story and give YOUR opinion.
Of course I am looking for good ones! Of course! Good reviews!
I want the quiet excitement I feel at having published my first ebook to continue for a while.
But I am also open to constructive criticism that will help make my work better...really! 
Here are 3 pages from the book.... 
I find Gabby to be VERY funny. But here she is doing just what she's told. A good little worker.
It was Xenny that surprised me. She seemed so concerned about her name being pronounced wrong.
Who gave her that name anyway? Oh, me. Especially for my book. Thanks, Xenny! Live with it....
(Say Ksenny like the x in fox, foks. Then she'll be happy.)
Learn the Sounds of the Alphabet Level One
on Amazon now!
Learn the Sounds of the Alphabet Level One
on Amazon now!
---