Ready for Christmas Company...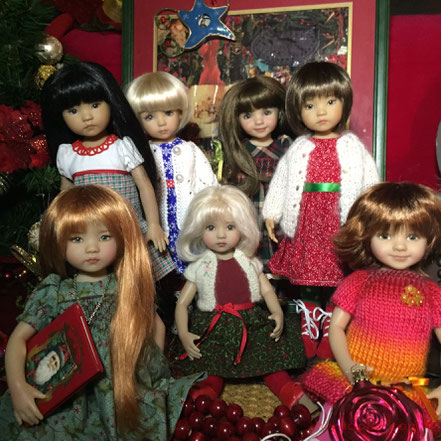 ---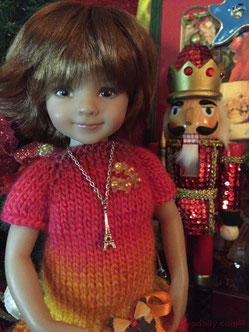 Tink wears the little Eiffel Tower necklace that came from Fifi from France with this bright sweater dress.
Merci, Fifi!
I'll add sources for these cute Christmas and holiday outfits, on our Doll Fashion page.
Dresses from Fifi, Pachom, Calico Closet, Special Delivery, TKCTCrafts, Randonne...
And boots and shoes from BSS Kid, and Dotti Gesford.
---
The other dolls are hoping to get in on some Christmas fun... Stay tuned for more photos and stories!
Xenny (with Angel Bear), then Tink, then Scout, then Chantal, then Pearl, then Eve, and last, Zoey...
Sky arrives to read the girls a story...
---
The Little Darlings are excited to get dressed up for company...
AND it's the first time they have been together in Dolltown for the Christmas season.
They discover there are a lot of holiday toys!
They are having fun getting to know Angel Bear, Big Sequin Nutcracker and Small SN, and Christmas Jester.
And they have heard there is an almost vintage Porcelain who is just getting her hair brushed, and face washed so she can join the party.
Meanwhile, the girls just have fun amidst the Christmas sparkles...