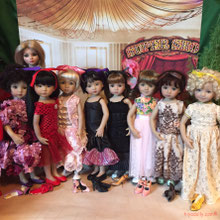 The Little Darlings were invited to a Facebook Anniversary party. And found there were no Little Darling frilly, smocked, or lace dresses in their cupboard! 
Well, not enough to go around...
---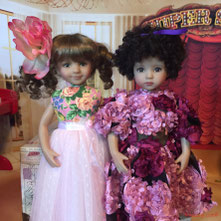 Ellowynes to the rescue! Willow brought a mound of dresses...and high heeled shoes to match!
The Little Darlings pounced on the pretty dresses. The shoes did NOT fit, much to their disappointment. But the dresses did, almost! A few pins, a hair ribbon and they were ready for the party...
Tink, of course, opted for a silk flower the size of her head. Over the top, Tink. Thank you, she says!
---
For more photos from this lovely photo shoot, hop over to the Little Darlings page. 
The girls didn't want the party to end after the photos were taken! As a matter of fact they are still wearing their fancy dresses...
Birdy got to wear her pretty yellow dress on a trip to Art Knapps, where we got some cute photos! But that's another story...
---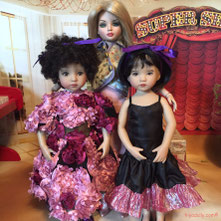 Willow is flanked here by Xennia in the flouncy fuschia flowered dress and Jiyoon in the black slip dress trimmed with shiny fuchsia ruffle.
Both are part of Willow's Woefully Romantic original outfit.  Jiyoon's dress is actually a slip for the flouncy overdress! 2 for 1!
---
Check out the Ellowyne fashion shoot, Ellowynes In the Ballroom, with the Ellowyne's themselves wearing most of these dresses! All except Zoey's red sequin dress...