It's very late...it may even be November 1st now! THAT's a good party!
Xennia stayed for a while getting photos taken, then she was taken to bed...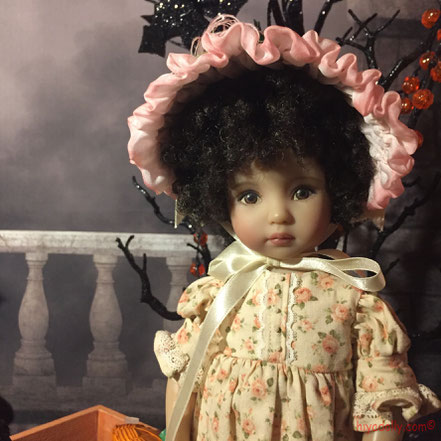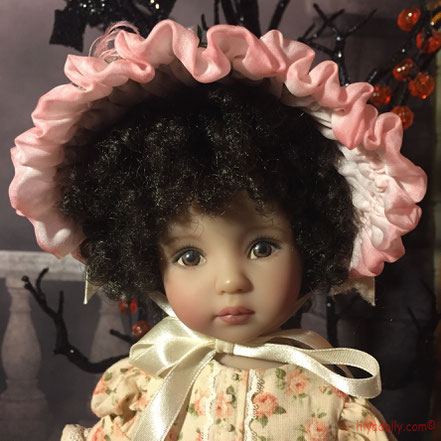 ---
That Halloween Party was something else...
As we stripped the Halloween things away, Dolltowners wandered in.
What were they doing? Where were they?
I know we saw some of them on the path, hanging out. They just hung out too long!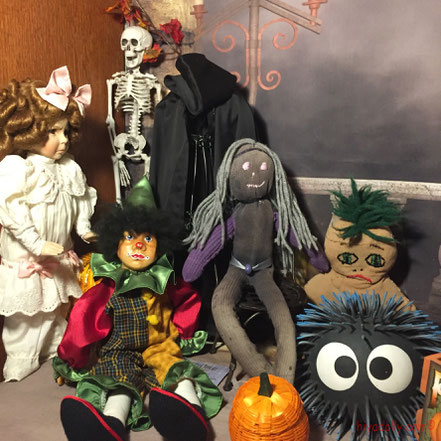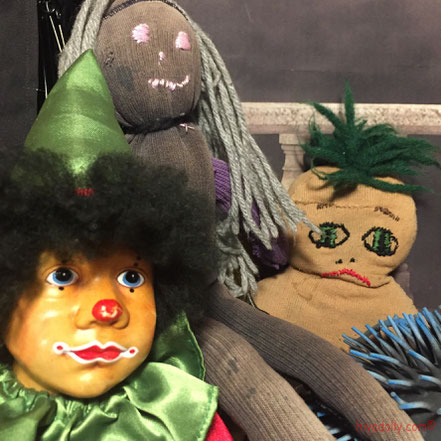 ---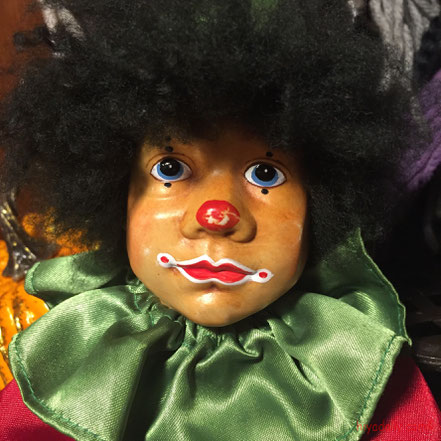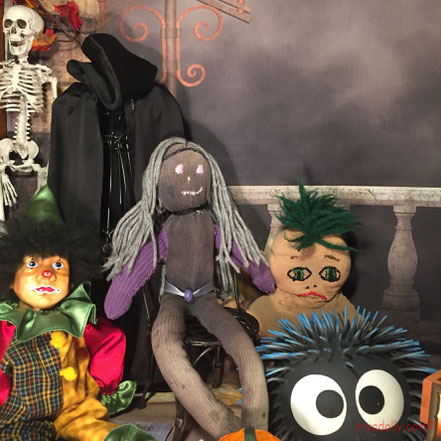 ---
Spiderman is STILL on the path!
He's distracted by all the little Dolltowners plodding home with their candy.
He strikes a pose for them!
Faith stops for a look and a comment...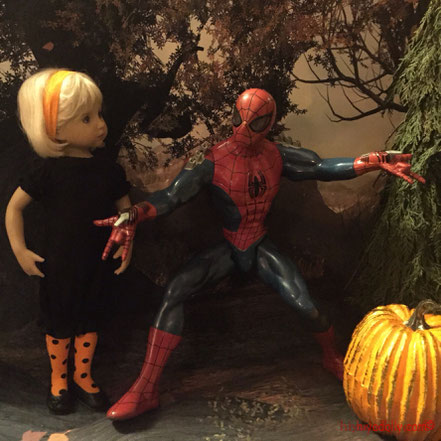 ---
Kasma Clown is a little down...
He has heard from his colleagues around the world what a tough year it has been for them.
Once revered, now vilified.  Clown impostors scaring children! For fun! How perverse!
How long will it be, Kasma Clown wonders, before the world rights itself. And clowns are loved again.
Vikka, here to help clean up all the props, keeps him company for a while.
She is comfortable with the depressed, the melancholy.
After a while she takes him for a beer. I mean, some Halloween fruit punch. Vikka is still underage...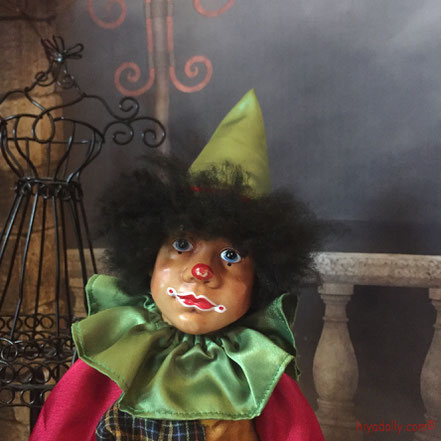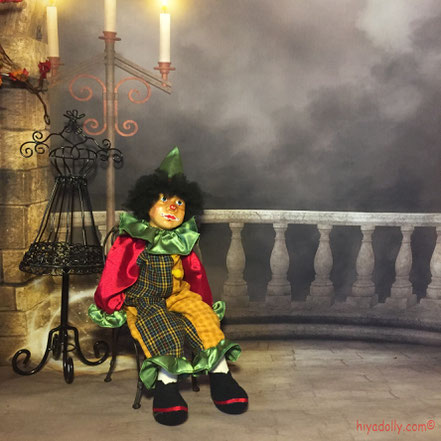 ---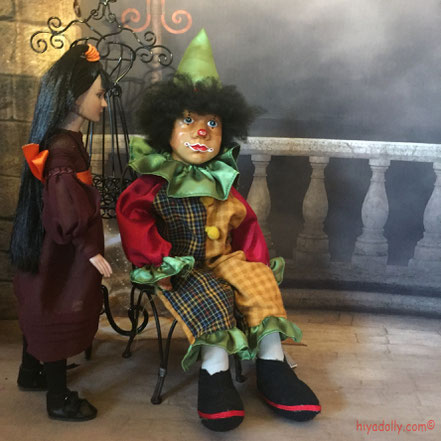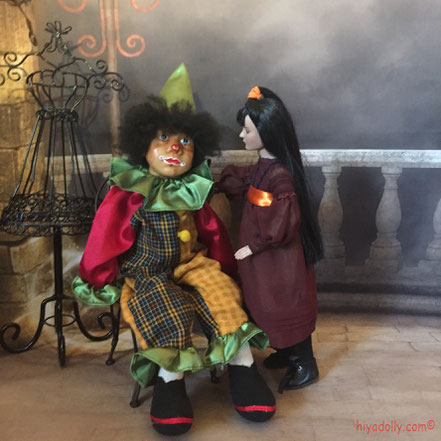 ---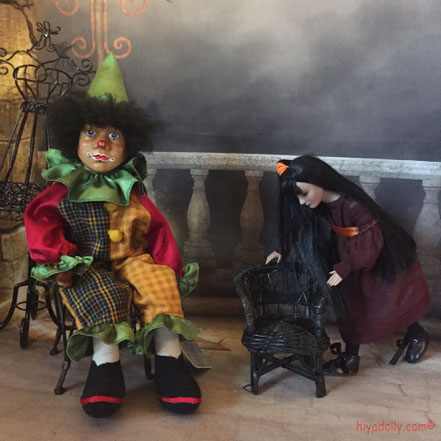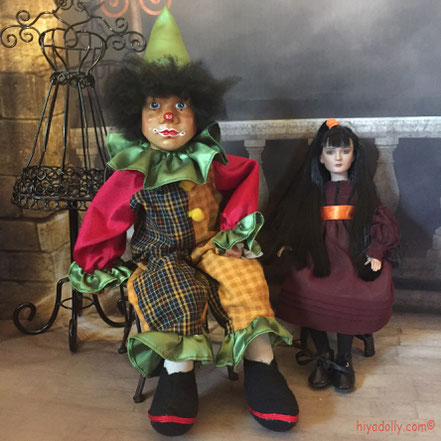 ---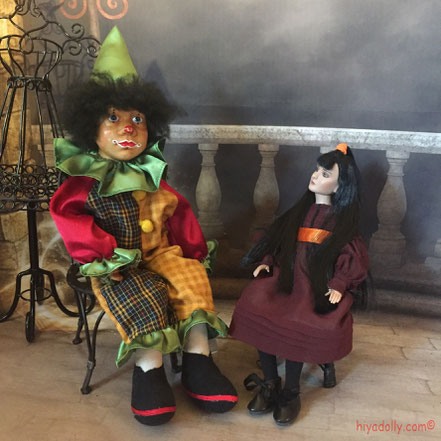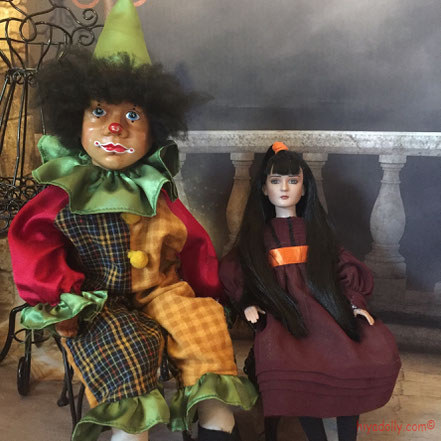 ---
More! The Skinny Ones! Well, they were here earlier, hiding out.
Maybe they have been standing behind the wire mannequin, and we didn't notice. Sneaky things!
Oona (she won't give us her real name) and Catrine chat about how cute the Iple Junior boys are.
And Jade J'Adore joins them.
They are talking about finding a nightclub, where they can have some post midnight fun.
Uuuuh, good luck girls!
The Dolltown Manifestors haven't even got that one at the bottom of a list.
You better go to a community meeting and put your two cents in... Not now!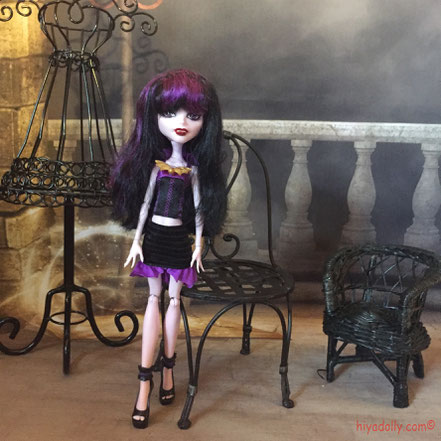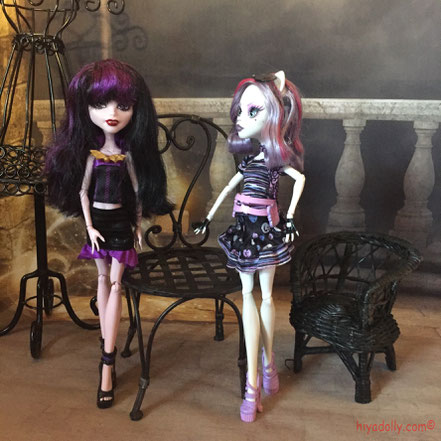 ---
---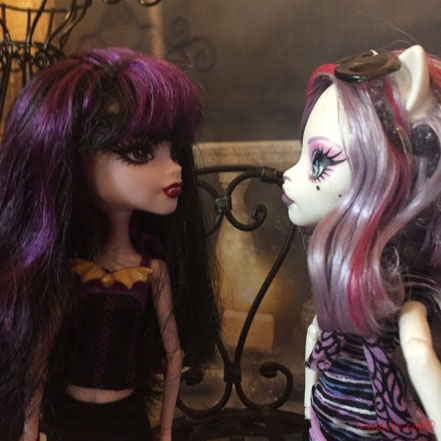 ---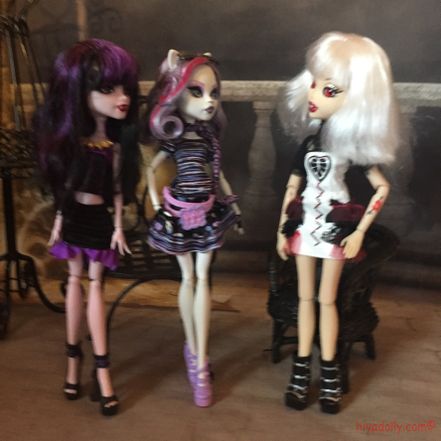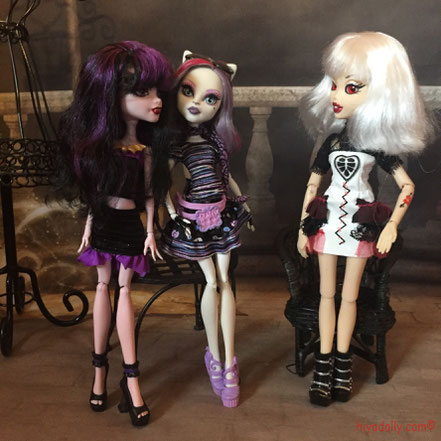 ---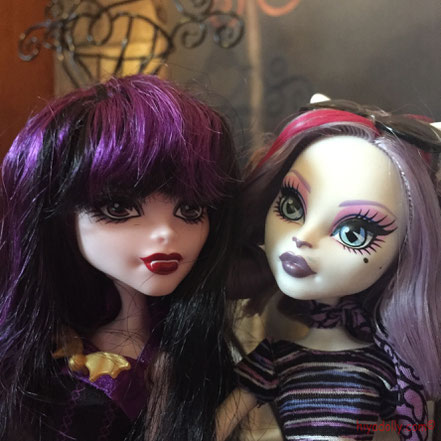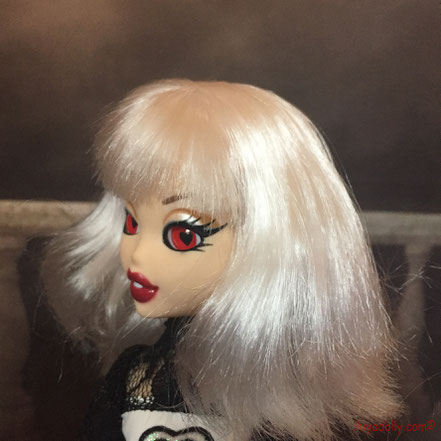 ---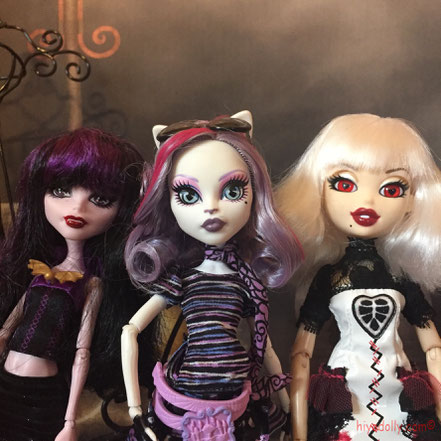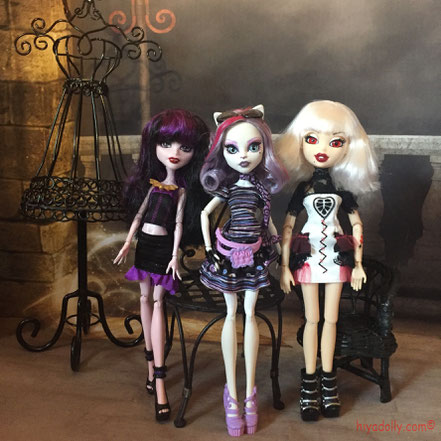 ---
What is Aira still doing here?
Her angel costume is gone.
She must be exhausted! Putting on a party for the little Dolltowners? She'll have to sleep for days!
Priscilla brings her some chocolate to fatten her up.
She's too skinny, Priscilla thinks,  like the last batch of stick dolls just here!
And here's a scarf, because, well, Priscilla thinks Aira should be wearing a scarf.
Something! A scarf, a sweater, a cape, a coat. Get covered up, girl!
I live here, Aira thinks to herself... But out loud she says, "Thanks Priscilla. Now, go home! Please, dear..."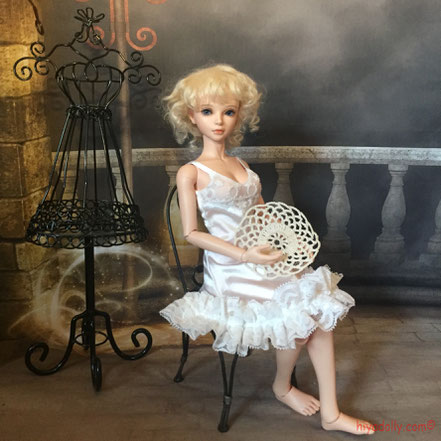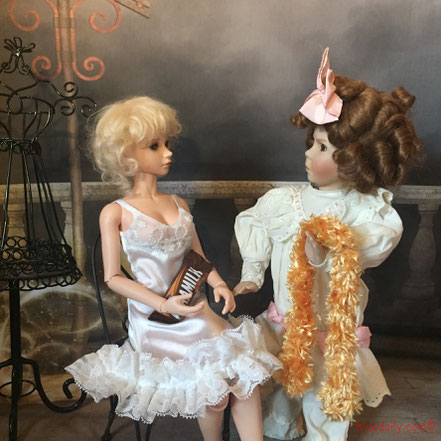 ---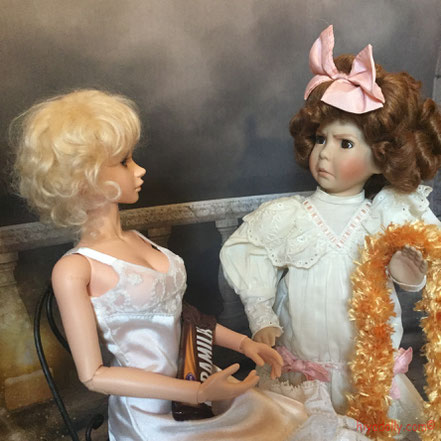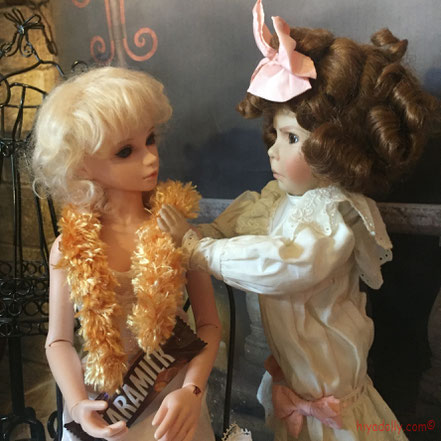 ---
Guard One just got off his shift and came to the party in case Darlene was here.
Nobody! He goes off to find her...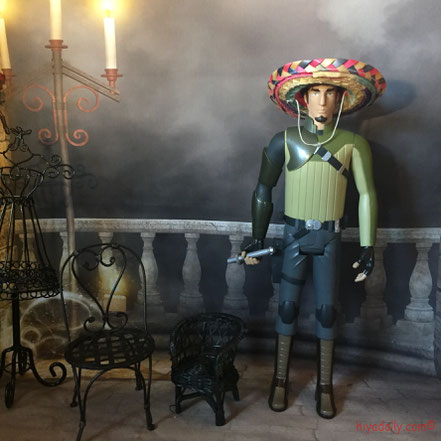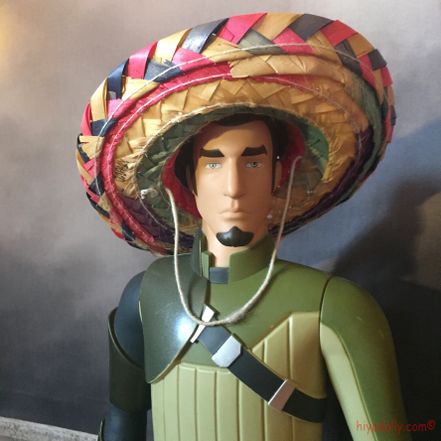 ---
Dolltown's Ballet Doll, Floora, heard the Moon Arch Room was a beautiful dancing space!
She does her floor exercises, while planning a ballet to put on here.
Maybe The Nutcracker Suite!
Everyone would love that!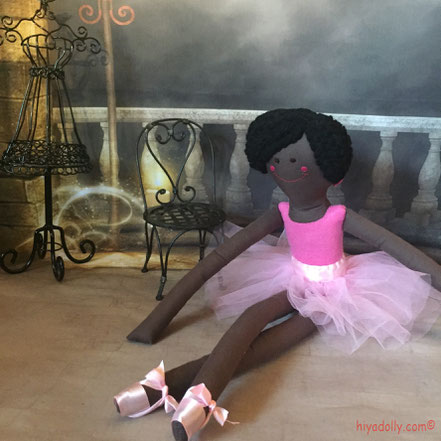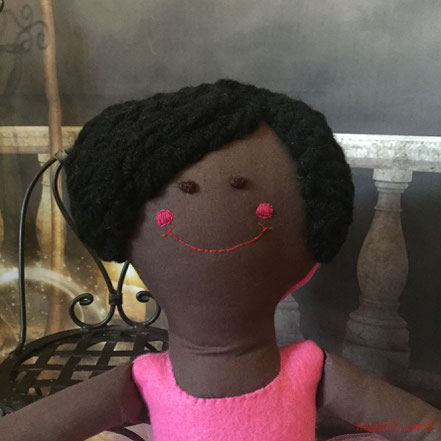 ---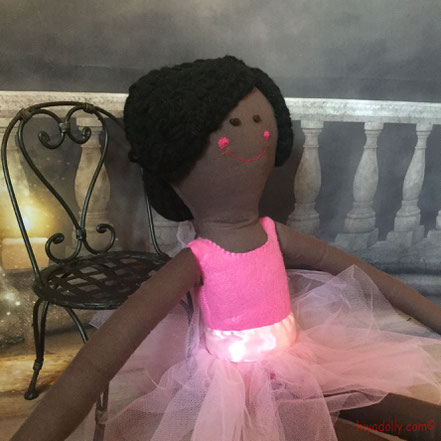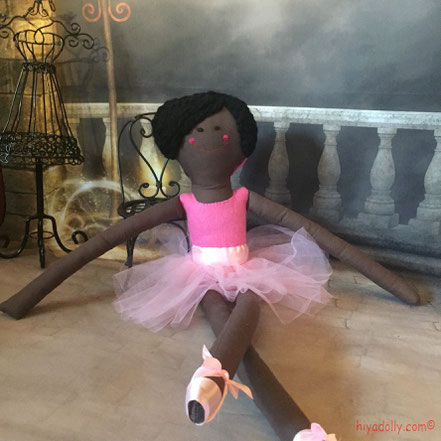 ---
And finally, hearing the hum of music, Woody and his one true love come for a last dance in the Moon Arch Room...
Uh, great costumes you two!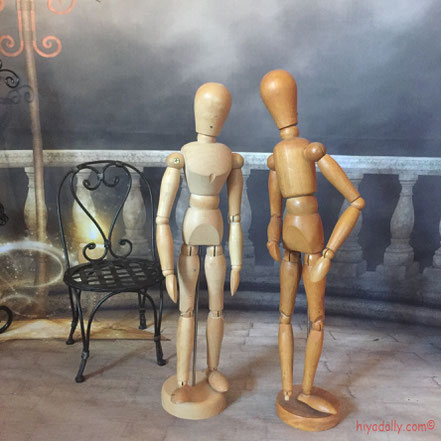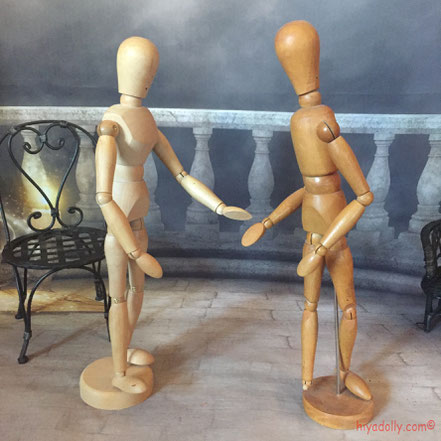 ---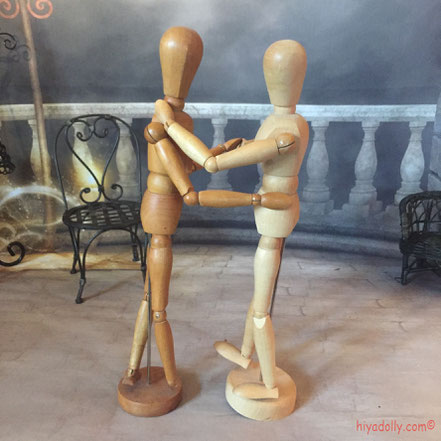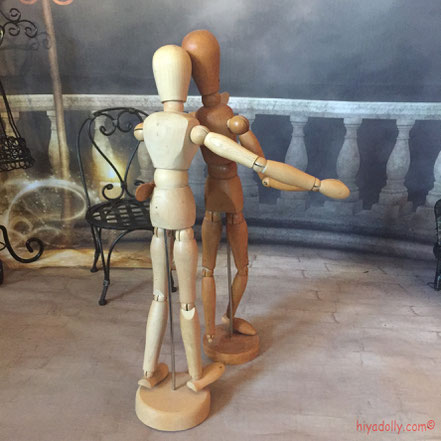 ---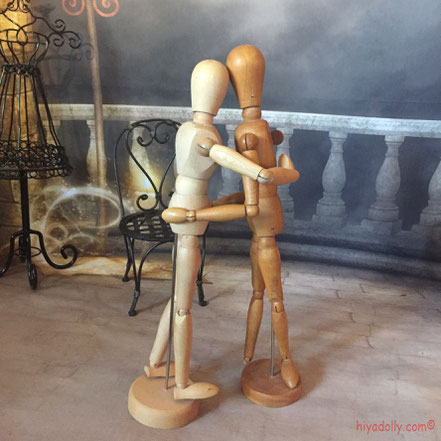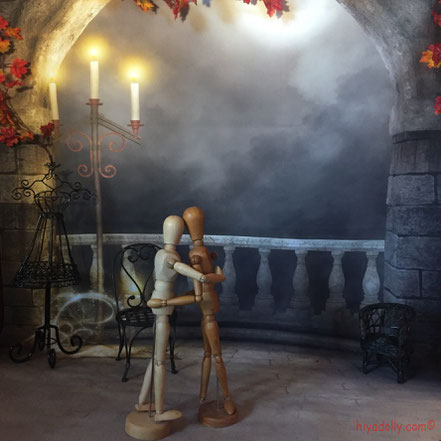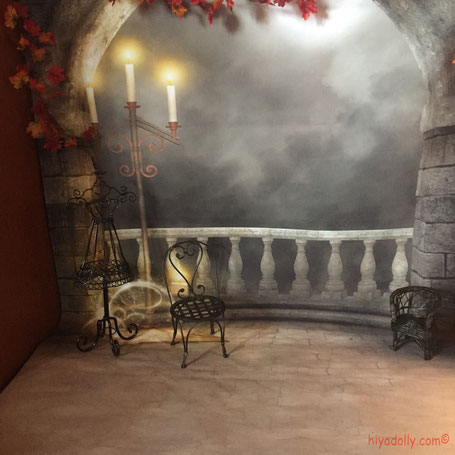 And that's a wrap, folks!
That's Dolltown Halloween 2016!
Now I have to go figure out what happened to the boys... Boys love Trick or Treating, right? Love a party!
Was their absence here related to stories of HALF the Halloween candy disappearing before it even got to Dolltown Abbey?
Lucky our little girls were so excited about the party.
I don't think they even noticed their little Trick or Treat pumpkins were half empty!
We will get the Iple Juniors on it.
Get them to help us solve this mystery.
After they have a good sleep! They deserve it!